This week: It's a RAVE!
Since this is the debut of Always Catholic, the Blog and it's Lent, I
figured I would perform an act of charity and write a Rave instead of what I
really want to do: RANT!
Sometime in late Fall 2006, I was reading my very favorite author and the world's
greatest novelist, Jane Austen, when I felt the urge to put Mansfield Park aside
and turn on the news. Believe me, thats a big thing when I'm deep in an
Austen novel.
I turned to a news station (no free ads here for the world-only the Church)
and started to read the ticker on the bottom. To my overwhelming surprise, there
was an announcement concerning the Traditional Latin Mass and Pope Benedict.
What?? I rubbed my eyes, blinked a few times and hit rewind on the DVR.
There it was! I hit pause so I could read and reread something I had prayed
for for over 35 years. The announcement stated that Pope Benedict XVI was going to issue an
Encyclical restoring the Traditional Latin Mass to its rightful place in the Church. (Totally my rephrasing of the ticker, but you get the drift.)
I picked up the phone and called my Pastor, Father Robert Pasley at Mater Ecclesiae
in Berlin, NJ. Father, I had figured probably beat me to the punch and knew
the whole deal. He didn't. Neither was it posted on WDTPRS with the ever-lovable
Father Z. Had I broken a story?
Much to my delight and surprise two days later at Mass at Mater Ecclesiae,
Father Pasley told the story during the announcements and added that my report
was correct. He verified it and now we would have to wait and see.
Months past by with no reports and it looked like just another leak that turned
out to be wrong. Father stood by my report and began to prepare for the celebration
when the Encyclical would be announced. He put his faith on the line and trusted
that our day in the sun was about to happen.A week after confirming with Father
that the celebration was being planned and ready to implement at a moment's
notice his trust was rewarded
Summorum Pontificum would be its' name and the Holy Father would finally
make our dreams come true. The encyclical would be published on July 7, 2007.
The date that the Holy Mass now called the "Extraordinary Form" would
commence in the Church Universal on the Feast of the Exaltation of the Holy
Cross, September 14, 2007.
Mater Ecclesiae, however, being special because it it the country's first
diocesan-run all Latin Mass, 1962 Book and Rules didnt have to wait until September
14th. Former Bishop of Camden, Nicholas DeMarzio (now bishop of Brooklyn, NY)
had the calling to ask father Pasley to make Mater Ecclesiae happen. Father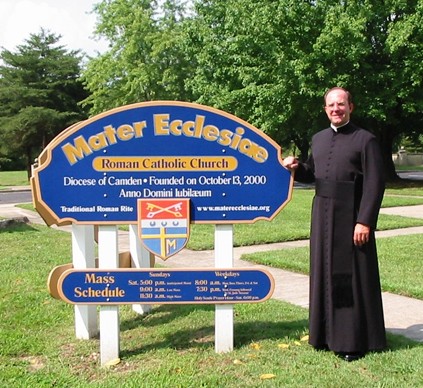 Pasley joyously accepted his task and the rest of the beautiful success story
can be found at http://www.materecclesiae.org.
Well, July 7, 2007 came and true to his word, Father Pasley had the celebrations
of celebrations. Priests and seminarians came from far and wide and every parishioner
and Latin Mass devotee in the area packed the church. After Holy Mass the
"Te Deum" was chanted
and not a dry-eye in the place.
A party in "Bishop DeMarzio Hall" followed in grand style
with all the parishioners helping Father
to make the day a beautiful memory.
I remember once, meeting a priest who had traveled to EWTN Live when Mother
Angelica was still hosting before her illness. During one of the breaks, Mother
called the priest over to ask his blessing. The priest gladly complied. He asked
her what she thought about the Latin (Tridentine as it's known in traditional
circles) Mass. He said, she replied with this quote, " If it was up to
me, it would be wall to wall…"
Well, Mother, we are getting there. It has been a long wait. We have had the
Encyclical Ecclesia Dei and it supporting office in the Holy See since 1988
but everything has been a snails pace until Joseph Cardinal Ratzinger became
our Holy Father. Now, it seems that he keeps Summorum Pontificum in the forefront
of his Papacy and for that, thank you, Your Holiness.
In days forward, I will probably have plenty of RANTS about the Extraordinary
Form vs the Ordinary Form, so please remind me dear readers, of this particular
RAVE from time to time. Thirty-five years is a long time to wait for anything,
but truly I would have waited another 50 as long as it happened.
I now can die in peace. I say that to my family and friends and they laugh
at me, of course. The laughter however, heartwarms me because I ain't kidding!
Bless you, Your Holiness, Pope Benedict, you are a loyal son of the Church.